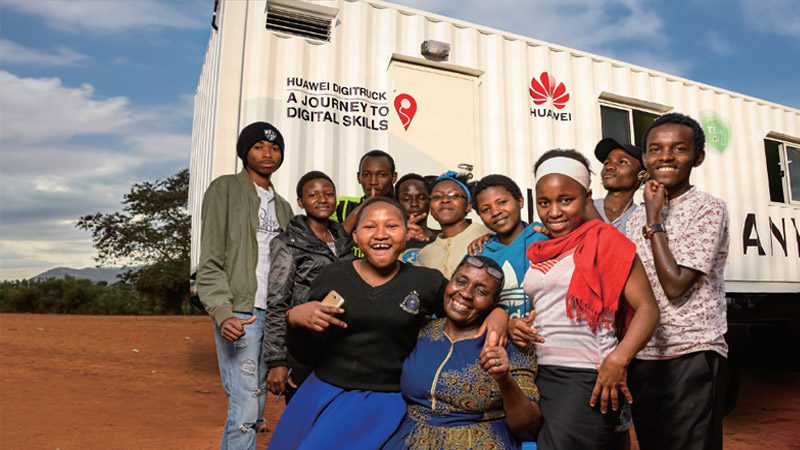 Now more than ever, digital skills are important to how populations prepare for the economy of the future, and while efforts are underway to mobilize the masses in meeting the challenges of the information technology elsewhere, most African countries are still dormant in this respect.
Although there is a lot of excitement around the digital economy and the opportunities it creates, the big risk is that we end up concentrating on improving the lives of people who are already digitally connected.
This means people who are not connected to the internet get left behind, resulting in a widening of the digital divide as opposed to it becoming a democratising influence and opening up opportunities for everyone. It magnifies the inequality that already exists.
As one of the world's largest ICT companies, Huawei is committed to ensuring that people in every corner of the globe have access to communications technologies. Globally, through its "Bridging the Digital Divide" strategy, it strives to enable more people to access information by providing customized ICT solutions to support and develop telecom networks at regional and national levels and to nurture and support education in telecom technologies in underdeveloped or outlying regions through extending Wireless Network coverage to 100 Million new rural users to reduces rural inequality.
Eastern and Southern Africa's lack of digital literacy go hand in hand with many of its education and literacy challenges. In the broadest sense, I think it mirrors those challenges, that is, people in poorer communities have less access to resources and often receive a poorer standard of education. Similarly, they have limited access to key aspects of digital such as connectivity, devices, and skills.
According to the Broadband Commission for Sustainable Development, 50% of the world's population still does not have Internet access. Unfortunately, many people lack the skills needed to use digital devices and as a result, the digital divide in education continues to grow.
THE DIGITRUCK IS PART OF HUAWEI'S TECH4ALL INITIATIVE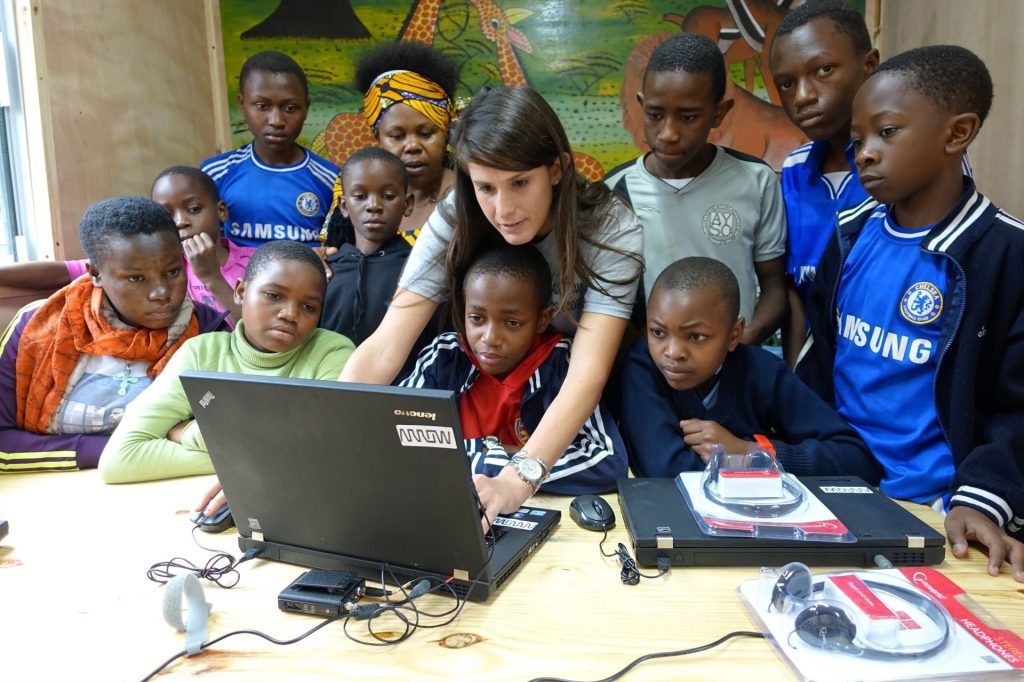 Huawei's initiative, known as the DigiTruck project, is the latest effort driving its digital inclusion initiative TECH4ALL. This program is designed to increase the awareness and accessibility of digital skills by delivering these solutions to remote communities through mobile digital classrooms converted from truck containers. Through its strategies, Huawei seeks to provide education for vulnerable groups in remote areas and has showcased the success of the first truck in a classroom called the DigiTruck in Kenya.
DigiTruck is a Classroom open anywhere for delivering new skills and opportunities for people in rural areas to shape their own futures.
What is DigiTruck?
A mobile, multi-functional IT lab fit in a 40' container on wheels. The DigiTruck will be able to reach the most remote areas in Africa that do not have access to electricity thanks to solar energy.
The flexibility in design and functionality enables the "DigiTruck" to be used as a mobile health center, hold community training, double as a Cybercafe and an IT classroom.
It has the capability to run 100% off solar power or be connected to the grid, is completely secure with double steel doors and window shutters with bolts and has triple insulation against the African heat.
Why DigiTruck for rural communities in this region?
Many countries in Africa, for instance, are playing catch-up with broadband connectivity and digital literacy.
75% of Africans live in rural communities
Only 46% of students from rural schools qualify for secondary school
Rural incomes increase when ICT is used to access knowledge and information
Lack of technological and market information has been given as a major reason for low productivity in African agriculture.
A divide laid bare by the Coronavirus pandemic COVID19, with school closures leaving some students with no alternative learning, but hi-tech, mobile DigiTrucks are helping to heal that divide.
"With the different DigiTrucks we have been able to reach even the most isolated communities that have little or no access to ICT, also bring quality training and education to these areas". Olivier Vanden Eynde, founder and CEO of Close the Gap.
See more details about DigiTrucks in Africa & their impact.
CONNECT THE UNCONNECTED, HUAWEI AIMS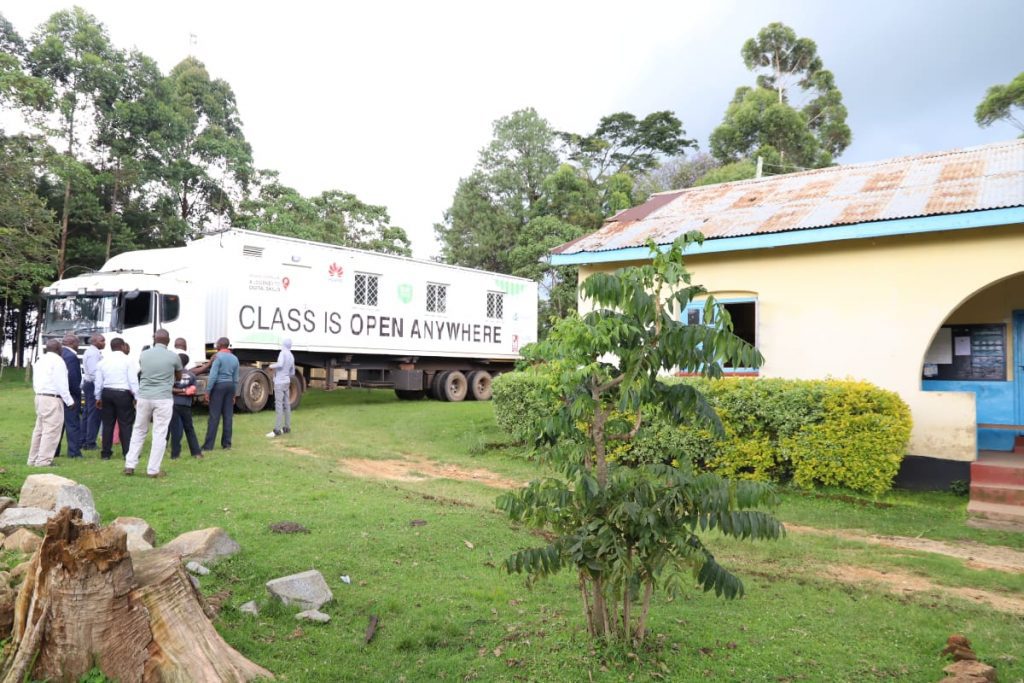 In an age where the internet is becoming one of the most important things about life, it looks like Huawei is quite literally driving the internet right to you. Huawei's Deputy Chairman Ken Hu outlined its vision at the Global Education Webinar entitled "Driving Equity and Quality with Technology". Schools and skills development are the two keyways to improve equitable and quality education. For Huawei, this includes the DigiTruck.
Through the training offered by Huawei DigiTruck, learners gain the skills, knowledge, confidence, and positive attitude for handling computing devices. They are able to register their businesses online and communicate effectively using various applications.
As a technology company, Huawei wants to help with connectivity, applications, and skills by focusing on two important areas of connecting schools and developing digital skills, respectively.
For instance, in Kenya, in the all solar-powered, mobile classrooms with wireless broadband access that can reach even the most remote communities, participants learn how to use computers and office software, how to use the internet to find and do work online, how to learn and develop their careers online, how to buy and sell their goods online, and how to be safe online.
"The digital skills that the DigiTruck helped provide before the COVID-19 pandemic struck have never been more necessary now that even more of life and work is necessarily happening online". Stone He, Huawei Kenya CEO.
DIGITRUCK MEANS DIGITAL SKILLS: A NEW JOURNEY FOR THE PEOPLE OF AFRICA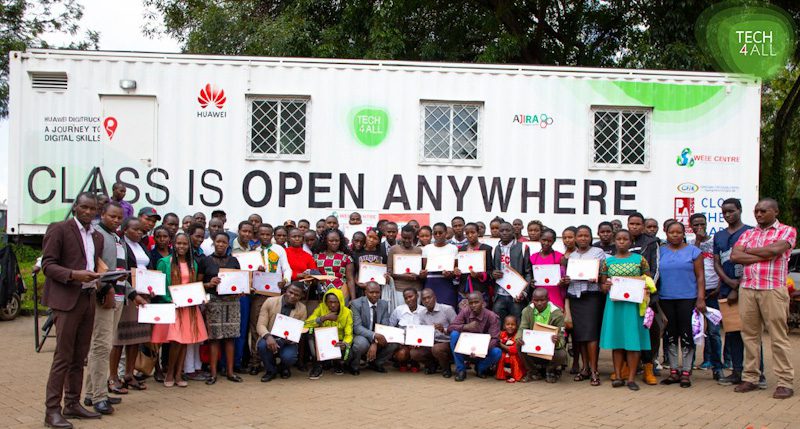 Huawei believes it can help make greater progress by reaching people no matter where they are.
And it emphasizes through its work and strategy of adopting an old African proverb holds that "We go fast alone, but we go further together", throughout providing connectivity and making digital skills available to everyone.
"The empowering use of ICT is closely connected to socio-economic development. Our 20 years of experience connecting rural communities in Africa has shown us that wireless broadband access is significantly changing the way we live and work in the digital world." Ritchie Peng, CMO, Huawei Wireless Solution.
DigiTruck's success in digital skills training shows how well the project worked in the region, as Huawei's solar-powered classroom in a Truck Drives to more counties across Africa.
The trucks are solar-powered, mobile classrooms with wireless broadband-enabled by fixed wireless access, laptops, and smartphones, enabling Internet skills to be taught aboard and incorporating VR content in digital education. It also has solar panels and batteries capable of powering it, so it can reach remote rural villages with no electricity where local teachers, women and youth can be trained.
Huawei has also worked with its partners to build the DigiTruck mobile digital classroom. The two parties will work together to take the DigiTruck to more countries to improve digital skills and quality education.
In terms of connecting schools, Huawei will help to provide access to high-quality educational resources such as digital curriculums and e-learning applications, and teacher and student training by connecting school to the Internet with partners.
In South Africa, Huawei recently launched the DigiSchool project in partnership with operator Rain and educational non-profit organization Click Foundation, aiming to connect 100 urban and rural primary schools over the next year, in addition to the 12 already connected through 5G technology.
In terms of digital skills development, Huawei planned to provide digital skills training for vulnerable groups in remote areas, especially female students, through projects such as DigiTruck in a program called 'Skills on Wheels.' This fits into Huawei's wish to leave no one behind.
Provide digital skills training for vulnerable groups and especially female students in remote areas.
DigiTruck launched in Kenya last year and has since provided training for more than 1,500 young people and teachers in rural areas.
The DigiTruck in Kenya is operated by Computers for Schools Kenya (CFSK) and works together with the Ministry of ICT's Ajira initiative, Safaricom's Blaze initiative, UNESCO and other partners.
For many around the world, life is becoming increasingly connected. Trains and malls are filled with the familiar sight of people using their phones; connectivity is as strong on mountain tops as it is in cities, and businesses are moving data and services seamlessly across whole continents. Young people are growing up in a digital world where digital access is essential to their education, finance, health and even finding an occupation.
Yet, whilst connectivity may seem as ubiquitous now as the air we breathe, 50% of the world are without broadband connectivity and many lack basic digital literacy. What may seem simple for some, such as accessing the internet or using a phone, are skills still unacquired by much of the planet. Bringing these people into the digital future is a major challenge that is filled with many obstacles.
Finally, Huawei is adopting a new road that solves an old problem: Building a road to digital skills.
Technology can do good, but as our contribution to the UN's Sustainable Development Goals, we must make sure no-one is left behind.
**You can learn more about Debra Ruh below and about Nabil Eid by clicking in his name.