By Rosemary Musachio
On May 18 Global Accessibility Awareness Day (GAAD) will be celebrated once again. GAAD is the sixth annual effort to tell the world that access to digital technology (e.g. Internet, mobile, software) is vital to persons with disabilities. If digital technology isn't accessible, many of us can't work, shop, bank, or socialize. According to the National Telecommunications and Information Administration, technology still doesn't seem very accessible,
for only 32% of persons with disabilities in the U.S. use computers and the Internet.
Some brand companies (now commonly known as "brands") see the importance of making technology accessible, however. Besides benefiting persons with disabilities, these companies also realize it will increase profits and enhance public image. According to Return on Disability, consumers with disabilities worldwide hold $1 trillion in disposable income. Companies who don't jump on the accessibility bandwagon are definitely losing out.

Apple and Microsoft, two of the biggest technology brands in the world, also are giants in making technology accessible. Both include accessibility features in their hardware and software. Additionally, both have developed strategies to make technology more usable for persons with disabilities. For example, Microsoft's Enable group develops technologies that help us live more independently. The group's latest endeavor is combining image recognition of actual surroundings with eye gaze technology.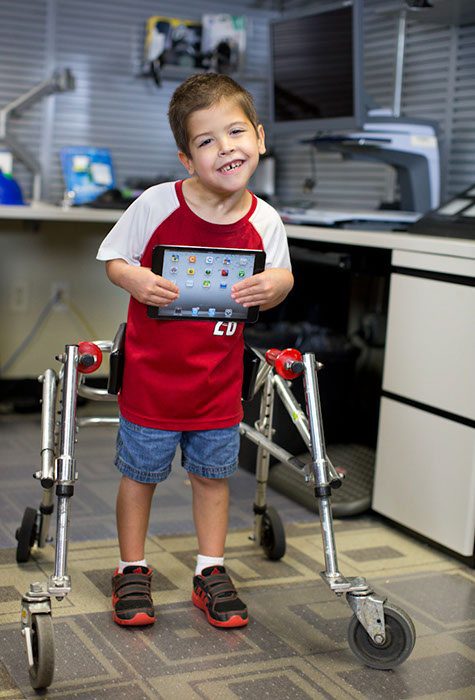 Apple also is making great strides in the development of accessible digital innovations. Like Microsoft, Apple has accessibility features built into their products such as Global Access in iPad and VoiceOver screen reader for all its products. Thanks to Apple, persons who are blind or visually impaired actually can take pictures using their iPhones by following spoken cues in the camera that says the number of subjects in view, their distance, and the focus level. Another Apple innovation in accessibility is the iPhone offers a Braille keyboard for blind users.
Yet, big tech giants aren't the only brands who place a strong emphasis on accessibility. Dropbox, one of the leading online file storage services, published a blog post called Creating A Culture of Accessibility. The article describes how the company integrates accessibility in its products and a genuine interest throughout the company. For instance, Dropbox organizes Assistive Technology (AT) Labs where company employees learn to use various AT, such as screen readers, with their products. Lab participants are assigned three tasks to do with a product (e.g. Dropbox web app), from a simple action to a complex procedure. If they discover an issue, a Dropbox engineer can remediate it.
Another brand that has gotten on the accessibility bandwagon is Starbucks. Two years ago the mega café developed an app for all customers, but it's especially helpful for those who are deaf and/or nonverbal. Starbucks Mobile Order and Pay allows them to enter an order and pay before they arrive at a store location. Consequently, customers with communication impairments won't become frustrated or feel ignored, and the Starbucks service representative doesn't have to invest time in trying to understand what they want. Besides the app, Starbucks also has ensured their websites and apps are accessible by establishing the Web and Mobile Community of Practice where developers, technicians, managers, and other Starbucks personnel continue to work towards accessibility.
Not only more American companies are incorporating accessibility within their business frameworks; companies overseas also are establishing accessibility programs. Barclays, the leading bank in London, has realized that accessibility and inclusion are vital in maintaining customer and business relations. They believe everyone should have access to their opportunities, programs, and products. Barclays is demonstrating this belief through several initiatives. For instance, last year the London bank launched "Let's Talk Accessibility", an internal education and training program that teaches its colleagues about how the bank integrates the needs of persons with disabilities in every aspect. As for accessible innovations, Barclays developed Contactless Payment. Similar to Starbucks' Mobile Order and Pay, customers enter banking information in their mobile devices before going to an ATM. When they arrive at banking machines, they just tap their bank cards against the kiosk to complete transactions. This technology prevents customers with dexterity or vision impairments from struggling with inserting cards into slots or pressing tiny buttons to enter information.
According to David Caldwell, IT Accessibility Manager for Barclays, "The important point to make about both our purpose and our ambition around accessibility is that we have them not just because it's the right thing to do but also that they make good business sense." Hopefully, many more companies will realize the validity of that statement. Then Global Accessibility Awareness Day would be celebrated each day.