---
On January 19, 2017, the United States Access Board issued a final rule to make Section 508 Refresh official. The landmark regulatory update will become effective March 20, 2017. Therefore, until the latter date, federally created information and communication technology (ICT) still has to comply with Section 508. Federal agencies and contractors will be required to comply with Section 508 Refresh starting January 18, 2018.
Section 508 Refresh has climbed a bureaucratic mountain. Since its conception in January 2008, Section 508 Refresh has been changed more than a baby's bottom. It has gone through several updates and delays. To help it remain at its peak, we need to know how to comply with its revised sub-provisions and reap its benefits.
If you wish to examine the new rule, you can read the
full text of Section 508 Refresh
. Otherwise, Ruh Global Communications' Chief Accessibility Officer, Rosemary Musachio, will brief us on Section 508 Refresh.
Debra:
So Rosemary, what will Section 508 Refresh mean for federal entities who are already following the original Section 508?
Rosemary:
If your ICT already complies to the original
Section 508
, you're off to a great start. In fact, you're off the hook! Section 508 Refresh has a "Safe Harbor" clause that states if your existing, or "legacy", ICT already complies with Section 508, then the technology doesn't have to meet the new provisions. "Legacy" is defined as any ICT product bought, created, or maintained before January 18, 2017.
Debra:
What if a legacy product has updates? What should be done then?
Rosemary:
For legacy products that have been updated (e.g. webpages) after January 18, they have to meet Section 508 Refresh standards. Similarly, if your legacy ICT doesn't comply with Section 508, then you would need to abide by the Section 508 Refresh standards, just like all new ICT that's federally based. "Federally based" used to mean federal departments, agencies, and federal contractors. Yet, Section 508 Refresh has a clause that may broaden that category:
"Public-facing content refers to electronic information and data that a Federal agency makes available directly to the general public."
So, if a school or hospital, for example, is federally funded and maintains "public facing" content (i.e., websites, Intranets), then the content could be required to be Section 508 Refresh compliant. You should confirm this with your administrator.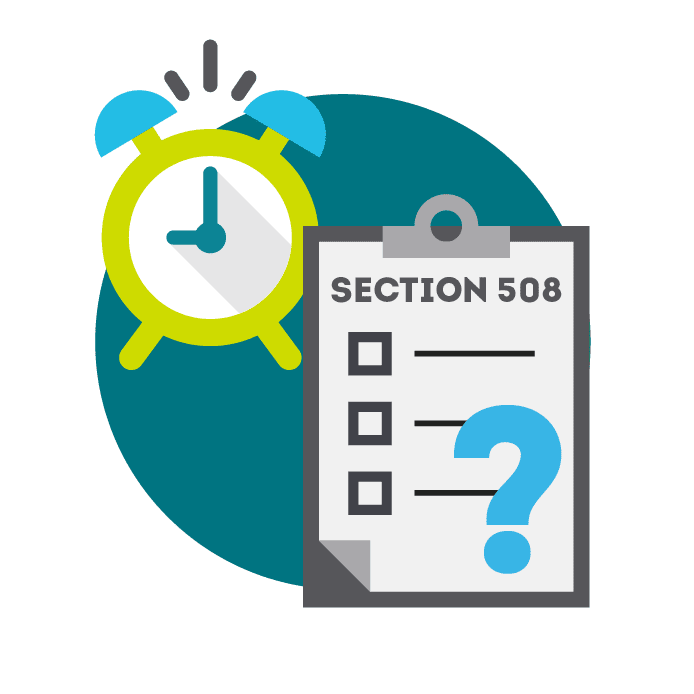 Debra:
If you're a federally government entity or contractor who has or will develop products after January 18, 2017, you must comply with Section 508 Refresh by next January also, correct?
Rosemary:
Yes, federal government entities who create new ICT have eleven months or so to comply with Section 508 Refresh. Familiarity with the original Section 508 and
Worldwide Web Consortium Web Content Accessibility Guidelines 2.0 (WCAG 2.0)
will make compliance with the new law easier. Additionally, knowing how Section 508 Refresh affects each ICT category and assistive technology will make compliance a breeze!
Debra:
True, Rosemary. Section 508 Refresh includes a broader range of ICT within a more concise set of regulations that should improve the compliance rate and, therefore, accessibility.
Rosemary:
When I test products for Section 508 compliance, I have been citing Section 508 1194,22(l) or the software sub-provision 1194.21(a) for keyboard accessibility on websites. Or if there's a webpage within a software application, I usually had to complete 1194.21 Software and 1194.22 Web for the Voluntary Product Accessibility Template (VPAT), along with 1194.31 Functional Performance.
With technology changing by the day, testing against different set of sub-provisions has been tedious and time-consuming. That's why Section 508 Refresh covers all ICT categories in a swoop. If a printer has a touchscreen with web capabilities, it has to conform to Chapter 4 Hardware and Chapter 5 Software. Its web capabilities would be covered under the 501 General Provision of Chapter 5:
EXCEPTION: Where Web applications do not have access to platform accessibility services and do not include components that have access to platform accessibility services, they shall not be required to conform to 502 or 503 provided that they conform to Level A and Level AA Success Criteria and Conformance Requirements in WCAG 2.0 (incorporated by reference, see 702.10.1).
By directly referring to WCAG 2.0, Section 508 Refresh will cover web accessibility much more extensively than the original Section 508. With the latter, for example, we had to infer that 1194.22(d) meant that headings, lists, and other content had to be structured correctly. Section 508 Refresh's reference to WCAG 2.0, however, leads us right to Success Criterion 1.3.1, which specifies what structural markup should be applied. Another example is original Section 508 didn't mention keyboard trap whereas the Refresh's reference to WCAG 2.0's Success Criterion 2.1.2 does. Fourteen other new requirements are included in Section 508 Refresh through WCAG 2.0.
Debra:
Besides having clear, more specific requirements to make ICT accessible, Section 508 Refresh also clarifies how ICT should be compatible with assistive technology (AT), which helps persons with disabilities access content. The original Section 508 mentions AT in general.
Rosemary:
Ironically, AT itself is exempt from conformance. But yes, Section 508 Refresh does specifies features of AT. For instance, in Chapter 5, it mentions "focus cursor", which is controlled by screen readers and screen magnifiers. In fact, Chapter 5, section 502 is dedicated to the "Interoperability of Assistive Technology". It defines how ICT content should behave with screen readers and other devices. Interestingly, sub-provision 1194.21 of the original Section 508 confused many people into thinking that "Software" meant the AT itself. So they weren't remediating products but providing and remediating AT.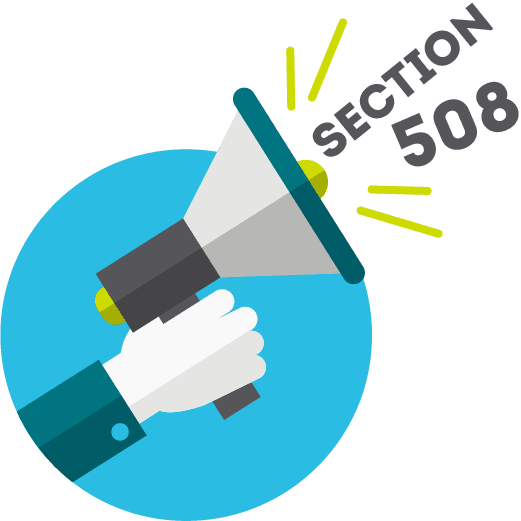 Debra: S
o clarifying that it's the ICT, not the AT, that must comply with the Section 508 Refresh is definitely a benefit. It will make more products, including websites, more accessible. What other benefits will the Section 508 Refresh offer, Rosemary?
Rosemary:
Products procured by the U.S. government also could be sold to foreign governments since the Section 508 Refresh refers to WCAG 2.0, which is considered the international standards. The Refresh also mirrors the European accessibility standard ICT procurement, EN 301 549. This harmonization of the Refresh with international standards also will enable the U.S. government to procure accessible products from other countries.
Another benefit from the Section 508 Refresh is more persons with disabilities will want to work for the federal government since it will have products that are more accessible for them to use. With office technology that is more accessible, productivity for government employees will also increase.
Debra:
Besides benefitting federal government employees with disabilities, Section 508 Refresh will make federal government websites more accessible so users with disabilities will have access just like everybody else. Thanks very much, Rosemary, for helping me explain Section 508 Refresh.
Rosemary:
My pleasure. Hopefully, we've made it easier to understand and to implement.