The world has around 1.3 billion people with disabilities (PwDs). In other words, one out of five persons has some type of disability. Like everybody else, we want and need to earn and spend money. In fact, according to Global Economics Disability Report, we, along with our family and friends, spend around $8 billion a year.
You'd think businesses would fall over one another trying to market their products and services to us, yet they are not taking advantage of this gold mine. Only 4% of companies target consumers with disabilities and everyone related to us. Dogs are even more targeted since more clothing lines exist for them than for us, cited by Stephanie Thomas, founder of Cur8able, a fashion lifestyle website for PwDs.  Until recently, businesses didn't devoted resources to employing or marketing to PwDs because of misconceptions that hadn't seemed to disappear. They include PwDs as not being employable, sexual, or sociable. The satirical short film DIVERSish amplifies the narrow mindedness through humor.
Within the last ten years, however, companies have become interested in our spending bandwidth as we become more financially independent. In fact, the 2010 U.S. Census shows that PwDs have $645 billion in disposable income. Companies invest in developing products and services for PwDs who are self-supported, who can purchase things with earned income rather than with government supplemental income. This makes business sense. When companies dive into the PwDs market, they also grab the buying potential of PwDs' friends and family members who have a worldwide disposable income of $6.9 trillion annually. 
Many of these companies have joined The Valuable 500. Established by Dr. Caroline Casey, a social entrepreneur who's blind, the Valuable 500 is a business forum dedicated to inform companies worldwide about the benefits of including PwDs in all aspects of business operations, from hiring to marketing. The goal of this amazing forum is to unite five hundred or more successful companies to discuss how they have integrated PwDs in every aspect of their business so others can do the same. The Valuable 500 members also share how PwDs have benefited their organizations in numerous ways.
Launched in January 2019 at the World Economic Forum's Annual Summit, the Valuable 500 has 158 members, some of which are globally renowned businesses. Microsoft, Bloomberg, Fujitsu, and Lloyds Banking Group are some examples that have invested resources to hire PwDs and develop products or services for PwDs. Microsoft has been so committed to PwDs that it created a Chief Accessibility Officer position filled by Jenny Lay-Flurrie, who happens to be deaf. The leading technology company also shows its efforts and strides towards PwDs in stockholder reviews and its Global Reporting Initiative Index.
Bloomberg, one of the leading business news organizations, published an article called Why companies that hire people with disabilities outperformed their peers. According to the article, companies that are more inclusive to PwDs have 28% higher revenue, 30% greater profit margin, and double net income than other companies. These disability-inclusive businesses also reported increased shareholder returns.  When a company employs PwDs, it discovers that we're more diligent and devoted, because we often had to overcome and adapt to challenges. It also realizes that hiring someone with a disability doesn't raise insurance rates.  The Bloomberg article states health insurance costs only costs $500 per person.
Fujitsu is recognizing the benefits of employing PwDs with its recruitment initiatives. Currently, the Japanese-based company has 400 employees with disabilities who work in sales, engineering, research, development, and corporate. They work at either home or onsite where Fujitsu accommodates their work needs. Besides hiring efforts, the corporation also promotes programs for PwDs, such as sports competitions and employment forums. Regarding Fujitsu products, they must comply with Section 508 accessibility standards and the company's Universal Design Guidelines.
United Kingdom's Lloyds is another corporation that is committed to integrating PwDs in all business aspects. Recognized as a leading PwDs employer by the Business Disability Forum, Lloyds Banking has 5000 colleagues who have disclosed that they have a disability. Its Workplace Adjustment processes have earned accolades because they have increased productivity, cut expenses, and improved customer and employee satisfaction. These processes include technology accommodations, dedicated resources for PwDs recruitment and retention, and policies to help managers and colleagues understand PwDs involvement. Through promoting these efforts, Lloyd Banking has attracted 6 million customers with disabilities or other health issues.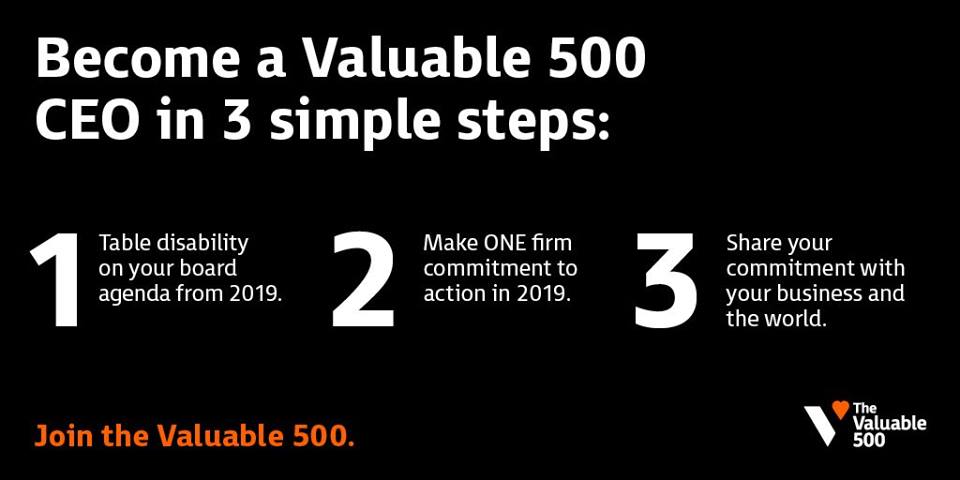 These and 154 other companies have made a written commitment to The Valuable 500. They pledge to include PwDs in their business agenda and to execute at least one action towards disability inclusion. These companies also are committed to promoting their efforts globally. No cost is associated with becoming a Valuable 500 member. Joining the worldwide business forum benefits companies, the global economy and, most of all, us—persons with disabilities.