The Metaverse is the next generation of the internet. People will enjoy more immersive and interactive experiences within digital spaces, be it for shopping, or undertaking business meetings; it can provide new opportunities for education, employment, gaming, or socializing with friends.
The growth of advanced technologies like Artificial Intelligence makes widespread metaverse adoption inevitable.
It is a new paradigm made possible by emerging technologies like Virtual Reality (VR), Augmented Reality (AR), and Blockchains.
The Metaverse is still in the first design stages; there is an increasing awareness of the need to build more diverse and inclusive virtual worlds with immense responsibility to ensure accessibility for all users.
Building these virtual spaces should consider prioritizing inclusivity, learning from grassroots innovation, and embracing collaboration by thinking in diversity, equity, and inclusion (DEI) from the start.
Persons with disabilities should not be excluded from digital spaces and should have equitable access. Let us use the technology to create an accessible Metaverse and add features to make it more accessible and inclusive for everyone.
For virtual worlds to be more inclusive, and if the Metaverse is a socializing place for everyone, persons with disabilities should be included in an accessible environment.
One goal of the Metaverse is to replicate the feeling of real-world connection by creating immersive virtual environments. But it may also make the internet more accessible to the more than one billion people who struggle to interact with digital content each day due to neurodivergence, disability, or other impairments.
The virtual augmented and extended reality glasses and headsets help facilitate the inclusion and integration of persons with disabilities in this virtual world. Smart technologies and accessibility are facilitating entry into this new generation of web 3 for visitors of the blind, deaf, autistic, and different types of disabilities.
The new stage should consider ensuring no one gets left out, left behind as the technologies develop.
Representation matters, and how persons with disabilities would like to be represented, representations in the Metaverse should reflect the real world's diversity.
To do an amazing job in the Metaverse, you need to work with persons with disabilities and edge cases to provide an entire community with a sense that they belong in that world.
The Metaverse can benefit companies and workers alike, enabling collaboration in a stimulating 3-D environment. We should focus on convincing tech companies to consider accessibility in the early stages so that the world of Metaverse is inclusive for everyone in an inclusive world and should not forget the ethical issues which play an important role in the development of this world.
This leads us to think of a new technological paradigm. Everyone can participate in the happiness of persons with disabilities, who represent a large percentage in our world or an estimated 1.3 -1.7 billion live with disabilities.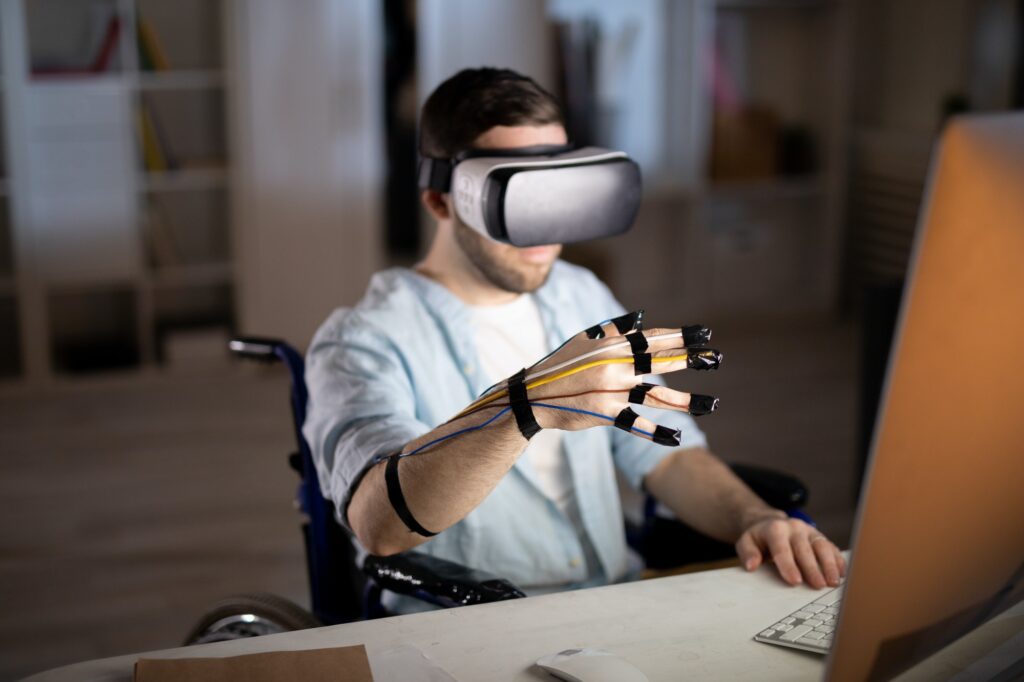 The empathy machine is so important for those working to create pieces of the Metaverse. Extended Reality (XR) experiences are both revolutionary and evolutionary, taking the Universal Design (UD) principles into the planning design of the Metaverse, which makes it a more compelling experience for all users.
The Web Content Accessibility Guidelines (WCAG) are organized by four principles: Content must be POUR: Perceivable, Operable, Understandable, and Robust. Web 3 should be fairer to everyone and could be a haven for persons with disabilities if we use the technology at our disposal to create an accessible Metaverse.
The entirety of the internet in two-dimensional formats, the Metaverse will introduce 3D and potentially 4D to users in the future. The accessibility features implemented on websites, social media platforms, etc., can also be reformatted for these other dimensions.
To accommodate deaf visitors, locations in the Metaverse will need to feature some type of captioning system in an immersive 3D environment.
Blind and low vision users will need screen reading capabilities and seamless audio descriptions.

Inclusive Virtual Environments

Many designers and developers may be incentivized to include robust accessibility in the Metaverse because it would create a more welcoming and accessible environment for everyone to interact in it.
Experts must continue to innovate in the Metaverse while prioritizing its accessibility.
There is a need to build Metaverse with diverse talent, including persons with disabilities. The virtual world needs all the talent it can get in the tech industry; we can't set aside talented persons with disabilities who are different. Attracting and enabling access for creators from diverse backgrounds is equally important.
Because companies are starting to think about this future now, we have the opportunity to help build the Metaverse with DEI from its inception in technology to impact society, especially the community of disability, positively.
The goal should be to make the Metaverse more accessible to everyone; we need to start from a place where we're designing for all and with all. The world shows us what is possible when considering loads of people's different lived experiences.
We need to start from a place where we find the community's voice.
The world shows us what is possible when you take loads of people's different lived experiences and focus on our global community together! So we can find our collective voices and highlight the needs of those vulnerable to marginalization as the Metaverse grows.
The Metaverse should be where everyone has a voice, ensuring that everyone is heard more than anything else. Persons with disabilities will require accommodations to gain full access to what the Metaverse offers. We now can reflect on the type of Metaverse we want.
It is up to us to step through that door and make the most of the Metaverse equitably and responsibly.