The third era of computing is upon us. It is the next evolution in computing and information technology (IT), on the same path that began with Web 1.0 and 2.0. Today we are seeing the Spatial Web (Web 3.0) unfold, eventually eliminating the boundary between digital content and physical objects that we see today.
Static and flat pages on PCs, laptops, and phones will be replaced by Metaverse items and digital 3D digital spaces, where we interact as lifelike avatars. This transition has profound implications for capability-building and learning.
Metaverse can be applied in many fields, including educational settings. Metaverse-related technology can influence students, teachers, and administrators' roles in schools.
The Metaverse can be leveraged as a virtual space to create more educational opportunities for learners with disabilities. It can take learning beyond the confines of a classroom and into immersive and realistic learning experiences, transforming education as we know it.
The students with disabilities and teachers can meet up in the digital space via their virtual reality (VR) headsets regardless of their real-life location. Such functionality can enhance education for those willing to explore this highly-immersive technology.
Education in the Metaverse can blur the lines between past and present, physical and virtual. It can eliminate the barriers of geography, disabilities, and special needs. So, what will virtual classroom or augmented reality (AR) for education look like soon?
Accessible Education Meets the Metaverse
Using virtual and AR, educators and students can go beyond the four walls of a classroom and explore immersive learning experiences. They can travel back in time to live in ancient cities or across oceans to explore tropical rainforests. Subjects such as astrophysics and chemistry can be studied in greater detail. Students can observe different planets and stars up close. They can examine molecules from different angles and grasp more abstract concepts.
Virtual learning also enables greater access to high-quality education, regardless of where a student resides. With schooling taking place in the Metaverse, geography will become one fewer hurdle for those eager to learn.
The potential for an accessible Metaverse could be awesome—sending students with disabilities into a virtual space where they could experiment with things, how physics works, re-enacting different parts of history, or things like that is theoretically cool.
There's a lot of cool stuff that can tie into different parts of our lives.

It is four times faster to train in the Metaverse than in the classroom. People are 275% more confident applying skills learned after training using the Metaverse. Learners are four times more focused than their e-learning peers and 3.75 times more emotionally connected to content than classroom learners.
VR learning takes it a step further. PwC found that learners trained with VR were up to act on what they learned after training—a 40% improvement over in-person classroom learning and a 35% improvement over eLearning. So this leads us to work on developing accessible educational courses in virtual or AR spaces.
A company in Seattle called Mixed Reality had explored VR education for students with disabilities so they can learn things like how to fly a plane or regain some muscle memory and motor control skills after an injury.
VR has been very helpful because if you can't move your hand but can see things, you can put on a headset and have educational materials in front of you that allows you to interact with your environment.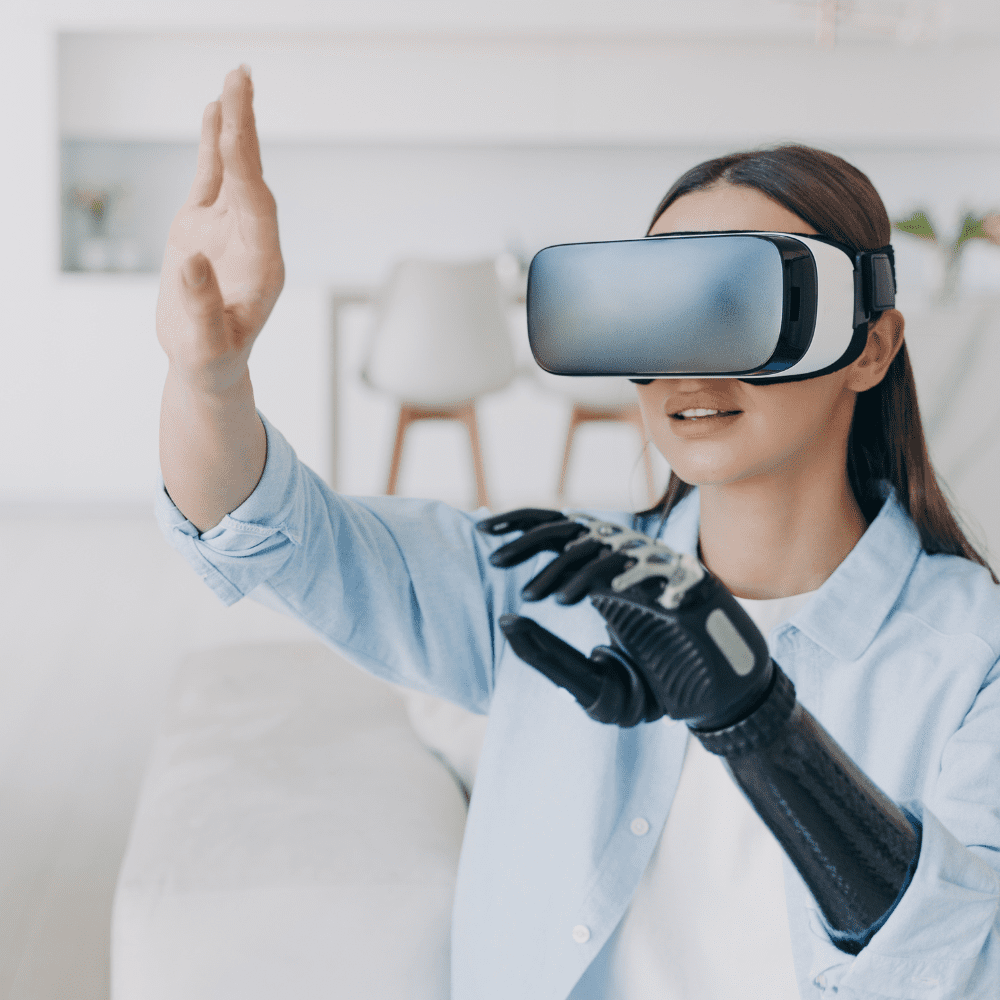 Accessible Metaverse is an Opportunity for Learners with Disabilities
The potential of education through the Metaverse using technologies like VR and AR enhances the ability to surpass the passive methods. Learning professionals reach users more meaningfully with the dynamic, highly interactive, and often emotionally realistic content created by XP. Learning in the Metaverse can connect learners worldwide and enable them to interact in meaningful ways while providing unprecedented accessibility.
The technology of the Metaverse is inherently decentralized, so what took years, or even decades, to accomplish with other technologies insofar as representation and accessibility are first-order priorities.
The Metaverse for education promises to improve education by making learning more immersive, detailed, social, and impartial. But turning a modern classroom into a virtual world is a challenge.
Students with disabilities will require accessibility and accommodations services to gain full access to what the Metaverse offers in the education field. Accessible education strategy should focus on challenges accessibility to make Metaverse access equitable for those who may not have the means to participate.
There's often misalignment between the policy and the teachers' experiences or needs. That's the biggest challenge in education: how can we rectify this? How can we combine the policymaker and the teacher?
What Type of Accessibility Features in the Metaverse?
One of the clearest dangers to an accessible Metaverse is that, in the mad rush amongst the tech giants to gain a first-to-market advantage, accessibility concerns are deprioritized at launch with the absence of any shared standards for developing third-party accessibility tools for the Metaverse.

On the positive side, the internet we have today at least provides a template for what web accessibility should look like, such as the Web Content Accessibility Guidelines (WCAG) outlining the four key principles of digital accessibility that content is perceivable operable, understandable, and robust.
The important determinant of Metaverse accessibility will be whether the core concept of universality translates quickly into the new technology.
Universality helps define how measures are undertaken to improve accessible education for students with disabilities and benefit everyone.
Another advantage of the Metaverse is its ability to transform the world into a classroom. By enabling students to experience an immersive environment, educators can help students put theory into practice and retain knowledge. Students can also gain more interest by engaging in simulations and games that simulate real-life situations. The 3D illustrations can help students understand concepts and theories in a fun and engaging. The Metaverse is a powerful learning tool for educators.
The companies with the keys to the Metaverse already have strong and established in-house accessibility teams.
"It's hard to say that accessibility will be baked in from the start of the metaverse, but there is genuine hope that it will be baked in before it becomes ubiquitous," says Joe Devon, the co-founder of Diamond and co-founder of Global Accessibility Awareness Day and chair of the GAAD Foundation says.
Metaverse opportunities for education have many potential uses and raise ethical and developmental questions. For example, using avatars in a digital world might allow students with physical challenges to mask their disabilities. However, this potential problem may be mitigated if the Metaverse can be used to create fully-functioning avatars for students with physical disabilities. The multiverse also allows teachers to use an avatar of Albert Einstein to teach physics, a subject that is largely absent in real life.
The Metaverse for education will allow educators to create an immersive environment for early learning, which is certainly a positive.
To accommodate deaf students, locations in the Metaverse need to feature some captioning system, but how will these be displayed in an immersive 3D environment?
Blind and visually impaired students need screen reading capabilities and a seamless audio description.
Students with motor and dexterity impairments will need input devices that those with hand movement issues use to access a computer easily transferrable to the Metaverse and can be allied with high-performance voice activation systems.
Microsoft Mesh enables presence and shared experiences from anywhere – on any device – through mixed reality applications; for example, students can simulate a factory floor and test different production methods. They can also engage in product development, testing, prototyping, and product launching.
Teachers may also use the Metaverse to help students with disabilities in their learning. By integrating accessible Metaverse-based education with classroom activities, teachers can help children with disabilities tackle social and academic challenges.
They can also use Metaverse learning to tie it back to existing knowledge. The Metaverse is not a substitute for teachers but a new way to spark learning and develop understanding.
Another way to leverage the Metaverse is through virtual reality. Students can experience virtual reality environments by checking into their devices at home. By leveraging the technology of VR, educators can enhance the learning process and make it more effective. In addition, it can promote gamification, enhance active learning, and expand social interaction within virtual settings. These are just a few of the benefits of the Metaverse for education. It is only time for the education industry to harness its potential in this way.
The Metaverse can be a powerful tool to enhance the educational experience of students of all abilities. Nevertheless, access to these benefits is not always possible due to the costs associated with accessibility hardware and training. Regardless, if access is made equally accessible, Metaverse can provide a powerful inspiration to both students and educators.
Special schools and institutions that teach students with disabilities have limited resources. So, many AR resources and other forms, like extended reality (XR), can encourage them to interact with their learning.
Metaverse and Immersive Learning
Learners with disabilities can learn and connect in immersive virtual classes. The Metaverse facilitates an immersive class life, where learners wearing VR headsets enter the virtual class to learn, explore, and socialize. In this digital space, for example, they can delve into different learning pods and meet coaches and educators without leaving their homes.
The Metaverse provides experiential, embodied skilling opportunities using real-world scenarios and high-pressure situations, where you can make mistakes without consequence. When well designed, it combines VR with data science and spatial design to improve learner engagement, confidence, and application.
Visualization and storytelling are two hallmarks of a Metaverse learning experience and are much needed today.
Improve accessibility in Metaverse virtual space will improve educational and social access for all learners with disabilities
The accessible Metaverse holds promise to enhance the communication of young adults with special needs, autism, and social interaction issues and the ability to improve their interpersonal and job skills, such as visiting a mall or grocery or shelving products at a store, or loading goods in a truck. Through VR apps, they can practice skills and interact with others in a safe environment without feeling overwhelmed or anxious.
VR can also help those with mobility or anxiety issues to improve their quality of life. For instance, the Starlight charity uses VR technology to give pediatric patients the chance to "escape" the walls of their hospital room and be transported into another world. They experience playing soccer, hanging out with friends, or visiting faraway places through VR goggles.
Useful references: