I never imagined much of the world would be telecommuting due to a pandemic. Today obtaining a telework position is almost the norm compared to twenty years ago when I looked for very scarce work-at-home opportunities. Recent data published by Global Workplace analytics and Iometrics shows that 97% of the people have worked from home during the pandemic and that overall performance has improved.
Since Ruh Global Impact is an international company with employees in four different continents, our colleagues work from home from all over the world.  Although teleworking isn't a trend for us, the women of Ruh Global Impact would like to share how we manage our jobs from home during a world health crisis.

Each section has been authored by each team member respectively.
Debra Ruh, CEO
Before becoming an entrepreneur, I was in the banking industry and always went to a corporate office. When I started my first firm, TecAccess, in 2001, I began working from home. I also realized that my social enterprise could find talented team members with disabilities if we all teleworked. From the beginning, my companies have allowed 100% telework, also known as telecommuters, work from home, or virtual work.
During my tenure as CEO and Founder of TecAccess, we invested in an office. However, most of the team did not use it, and it turned out to be a bad investment. Learning from that experience, Ruh Global IMPACT, my current firm, has always been 100% virtual. Telework supports my company by opening up to global talent; it also allows my team members more flexibility.
Telework has also been a gift to me personally. As I have lived my life during these last 20 years as an entrepreneur, my life and family have changed. My daughter Sara, now age 33, born with Down syndrome, went through a significant health challenge in 2018 that caused many hospital visits. My husband Ed and I just celebrated our 38th wedding anniversary. Sadly, my husband was hit by a drunk driver when he was 11 years old. He died on the scene, but first responders revived him. He was in a coma for about a week and a half and did not go back to school for months due to the seriousness of his Traumatic brain Injury (TBI) and other injuries. He went on to attend some college, married, and have two exceptional children. Unfortunately, his TBI caused his brain to age more aggressively, causing him to have late-stage dementia. Having the flexibility to work from home has allowed me to support myself and my family during different chapters and stages of our lives.
Since the Ruh Global IMPACT team already teleworked, it has been business as usual for us during the COVID-19 pandemic.  We did not have some of the terrible tech and communications problems that other companies had to experience.  When teams telework, it makes us better about policies by communicating and supporting a global team.  The communications tools like Zoom, Microsoft Meetings, Google Meet, SKYPE, Blue Jeans, WhatsApp, WeChat, and even social media platforms have made these issues much easier to manage.  I am proud of the team at Ruh Global IMPACT.  I highly recommend allowing your teams to telework.
Christina Block, Operations Director
I am Ruh Global IMPACT's Operations Manager. I manage finances, operations, and other activities for the company. I also provide support to Debra Ruh, the CEO of Ruh Global IMPACT, with several family members who have disabilities. Both of our families are fortunate and blessed to live in the countryside where we can roam without masks or fear of breaking the "six-foot distance rule." Exercise from cutting grass has replaced my favorite social court sport (pickleball), and it gives me plenty of time to clear my head and relieve the stress of the day.
I work out of my employer's home office. As a companion, I travel throughout our town masked and equipped with hand sanitizer to minimize our exposure and help to keep us safe from COVID 19. Our trips out are for doctor's appointments, grocery shopping, household errands, banking, mailing, dental visits, trips to the vet, as well as trips to the gym three times a week to keep everyone exercised. The family has found the gym's pool to be very therapeutic and relaxing.
Due to the pandemic, we went for many months without visits to the actual doctor's offices.  Zoom calls and virtual doctor appointments became the new norm, yet now we are trying to fit back into the in-person office visits.  Today at the hospital, they showed us kindness and patience despite many more rules to comply with the state regulations for COVID 19.  I am very grateful to see people reaching out of their own personal bubble to lend a hand and show the world how important it is to care for one another.                        
Jasmin Ambiong, Social Media Coordinator
Back when I was in college, I never thought that I would be working from home. My goal was to look for a corporate job and work in an office-based setting. It was my dream, and I immediately started applying for different companies when I graduated. Unfortunately, at that time, companies were not yet ready to employ someone like me who has a visual impairment. They turned me down, and it was then that I started to look for opportunities in different areas. That was when my working from home journey began, and I worked from home ever since.
For me, it wasn't an easy transition because I was young and an outgoing person. I love meeting different people and making new friends. That's hard to do when you work at home, and for me, that's one of the most significant disadvantages of this work. The human-to-human connection is vital for me, and that's something I struggled with in my first years. It was tough, but I have slowly learned to embrace it. I found my balance, and I'm now grateful that I'm working from home. I have learned to appreciate its benefits, like meeting people from different parts of the world, and I don't have to worry about my transportation expenses.
Working from home was also a great advantage when the government started to put lockdown measures for COVID-19. At first, it was hard for me to focus because of the different emotions surrounding the pandemic, but it comforted me that I didn't have to worry about adjusting how to do work at home.  It was an advantage that I didn't have to learn new work systems, and because of that, I was able to focus on myself. Working from home is not new to me, and that familiarity enabled me to spend more time learning how to handle my emotions towards COVID-19.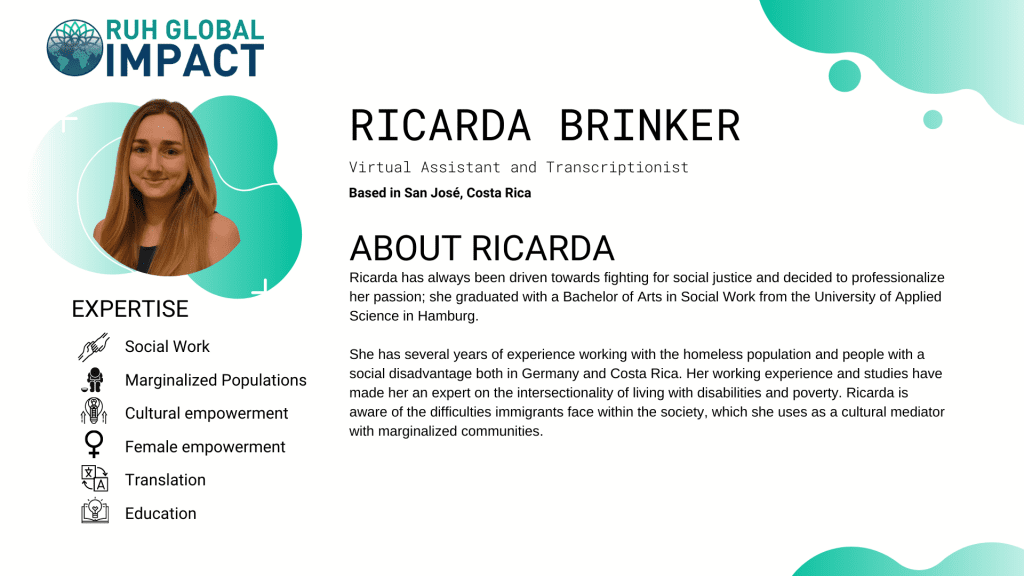 Ricarda Brinker, Virtual Assistant, and Transcriptionist
I have always struggled to get work done at home, starting with studying for university. I never seemed to be able to concentrate. Something else always caught my attention. I somehow convinced myself I had to do it: the dishes, laundry, dirty floors… The only thing that helped was escaping to the library, so I had no other tasks that I could be doing instead.
After getting my degree, I moved to Costa Rica and started working two jobs – one that was work from home and a second job that required me to go into the office. I was facing the same difficulties. I would find myself doing laundry between assignments, vacuuming the floor, cooking lunch, and so on. So I ended up finishing work a lot later than my actual employment working hours required.
Quarantine came along. My boyfriend and I were now working from home the whole time. I started noticing something. He did not seem to have this urge to manage work and household at the same time. He had to be present on the computer mostly and cannot interrupt his work as I can. Even on days when he wasn't bound to the desk, he still would not try to fit in household chores. When asked about it, he said it didn't occur to him. Not meaning he didn't want to help, but he is able to divide working time and private time, contrary to me.
When reminiscing about my mother, I recall that she hardly ever has sat still; there is always something to be done around the house. She works part-time, and my father works full time. He helps around the house on the weekends. When he comes home after work during the week, however, his work for the day is done. My mother, on the other hand, will always find something else that has to be done.
This pressure is felt by most women, a responsibility to take care of the household since traditionally, this is has been the role assigned by society. Now that 55.4 % in the US and 66% of women in the EU are employed, however, this work division must be re-evaluated; women cannot be solely responsible for the household while having an outside job as well. We must break out of this pattern, and society must stop reproducing it and pressuring women to do it all.
In my case, I am the one having to break this pattern. No one pressures me to work, cook, and clean all at the same time. It is on me to be aware of the situation, liberate myself from it, and tell everyone like my partner what to do to support me.
Realizing this has offered me the opportunity to grow and experience one of the upsides that working from home has brought. I get to spend a lot of time with my partner and our rescue dog that we otherwise wouldn't have had. Being at home has inspired me to create the home I want and need to live happily. I am more aware of the importance of nourishing relationships from afar to stay connected. But mostly, I am very grateful to have been able to keep working during Covid-19 while being in the safe isolation of my home.
For me working from home has been a blessing.  It has allowed me to keep working, given me more time for my personal life and relationships, and taught me a lot about myself.
Rosemary Musachio, Chief Accessibility Officer
For all of my working adult life, my office has been my bedroom. Choosing to work from home has been very convenient and inexpensive for me. Due to my cerebral palsy, I need a caregiver to feed me, take me to the bathroom, and set me up at the computer, not to mention drive me to and from the workplace. If I worked in an office, I don't know who would or should pay for my personal or transportation needs—me, Medicaid, or the employer. Additionally, working from home allows flexibility. Since I'm not a morning person, working from home permits me to do projects in the late afternoon or night when my creative juices flow the best.
Working from home has its disadvantages, however. My 87-old mother sometimes asks for help or has the TV volume too high. Something needs repair in the house, so I have to take time to e-mail or text someone to fix it. My soulmate, who is dying of terminal cancer, calls to say he's preparing his death room, and I end up crying for the next thirty minutes. A caregiver notifies me that she can't come, so I have to find a backup. To compensate for these distractions, I catch up on work at night or on the weekend when it is more peaceful. Working often distracts me from my distractions. I often barricade my mind in my career, shutting everything else out. If I worked in an office, I wouldn't find that peace with people talking and walking, telephones ringing, or LED ceiling lights flickering
Although COVID-19 hasn't impacted my work, it has affected my social life. Isolation has overwhelmed me. Since this health monster started changing the world in March, not many friends have visited. I also haven't been able to see them or meet them at restaurants or entertainment venues. Traveling to Europe, as I have been for many years, is absurd for Americans now. Like most of America and the world, I turn to Facebook and YouTube as virtual social life.
Although the world prays that this pandemic will end very soon, the coronavirus has taught us that teleworking isn't just for stay-at-home moms and persons with disabilities. It has become the new norm for many people regardless of gender, race, nationality, or ability. Due to the world's health crisis, our society finally understands that working from home is just as viable as working in the office. Going back to the Global Workplace Analytics, two-thirds of the survey's respondents said they wouldn't make the extra effort if their employers didn't allow them to continue to work from home after the pandemic is over. Moreover, as big corporations, such as Google and Microsoft, have shifted to remote work, persons with disabilities have more job opportunities than ever before. No longer can companies claim telework as an "undue burden".
To learn more about Ruh Global IMPACT, please visit www.RuhGlobal.com or follow us on most social media platforms at @DebraRuh, @JazzAmbiong, @RoseMusachio or @RosemaryMusachio, and @RuhGlobal. Please also follow and subscribe to us on YouTube at www.YouTube.com/debraruhglobal. https://www.csmonitor.com/Business/2020/1027/For-those-with-disabilities-shift-to-remote-work-has-opened-doors-video